"The Snow Queen" by David Philip Hefti released on CD (November 2020)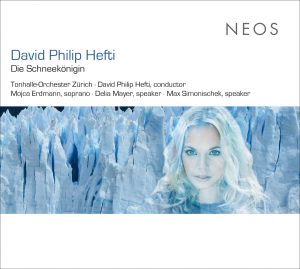 David Philip Hefti's music theater "The Snow Queen" will be released on November 13th as a live recording on NEOS.
On the occasion of their 150th anniversary, the Tonhalle-Gesellschaft Zürich commissioned this work and it was premiered in 2018 by the Tonhalle-Orchester Zürich under the direction of the composer David Philip Hefti himself and with Mojca Erdmann in the title role, the actress Delia Mayer, known from the Tatort (Switzerland), as narrator/Gerda and the actor Max Simonischek as Kay at the Tonhalle Maag Zurich. The libretto is by Andreas Schäfer based on motifs by Hans Christian Andersen and is aimed at adults and young people, but also at children. An additional special feature is that "room music" is used, so that the music can be heard from different directions in the hall.
More information about the work can be found here.