"Light and Shade" – new CD with David Philip Hefti (March 2021)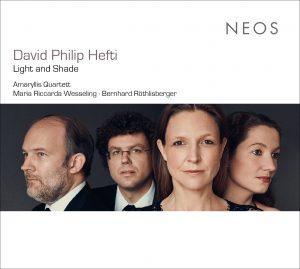 Swiss composer David Philip Hefti and the Amaryllis Quartett present premiere recordings of three of Hefti's works for string quartet and soloists on the CD "Light and Shade." On 18 March, the recording will be released at NEOS; in May the CD will be available on all digital outlets.
"Light and Shade" grew out of a long-standing collaboration between the Amaryllis Quartett and Hefti, and is also their first joint CD project:
– "An durchsichtigen Fäden" for mezzo soprano and string quartet to a poem by Kurt Aebli from 2018 is dedicated to the Amaryllis Quartett and mezzo-soprano Maria Riccarda Wesseling; world premiere in April 2018 in Lübeck
– "Concubia nocte" – music for the second nocturnal vigil (String quartet No. 5) from 2018; world premiere in October 2018 at the Engelberg Monastery with the Merel Quartett.
– "Danse interstellaire" – mourning music for basset clarinet and string quartet from 2014 with the Amaryllis Quartett and Bernhard Röthlisberger on basset clarinet, is dedicated to David Philip Hefti's mother; world premiere in October 2015 at Schwetzingen Castle with Nikolaus Friedrich and the Amaryllis Quartett
"The long-term relationship with the Amaryllis Quartett is one of the most gratifying collaborations of my career so far. The four musicians combine the analytical understanding of the works with an emotional approach to the music and thus belong – to my ears – to the best string quartets of today. That our partnership is crowned by the first joint CD "Light and Shade" makes me particularly happy." David Philip Hefti