CD-Release am 2. März: Francisco Fullanas Debüt-CD "Through the lens of time" (März 2018)
Am Freitag, 2. März wird die Debüt-CD des spanischen Geigers Francisco Fullana "Through the lens of time" bei Orchid Classics erscheinen.
Finden Sie hier die vom Label eingerichtete Website mit allen nötigen Informationen zur Veröffentlichung.
In diesem Video bekommen Sie einen Eindruck von Isang Yuns "Königliches Thema", das Francisco Fullana für die CD eingespielt hat.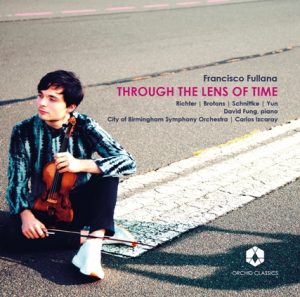 Die Online-Streaming-Plattform für klassische Musik IDAGIO featured das Album pünktlich zum Release. Klicken Sie hier.
Die CD ist außerdem in der AppleMusic "A-List" mit aufgenommen worden. Klicken Sie hier.