Rarities on CD: French trumpet concertos (January 2015)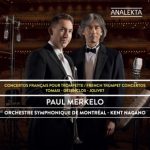 The Orchestre symphonique de Montréal and Paul Merkelo – Principal Trumpet with the orchestra for over 20 years – have recorded rarely played French trumpet concertos that are renowned for being some of the most demanding pieces for this instrument.
The French repertoire draws attention to a period in Europe that saw the liberation of its people at the end of World War II, and a rejuvenation of its soul through their artists, writers, and poets. This freedom of expression is clearly heard in the works of Henri Tomasi (1901-1970), Alfred Desenclos (1912-1971), and André Jolivet (1905-1974). Their interest in the sound of the trumpet and its ability to fit into a jazz idiom, as well as being a highly virtuosic instrument, gave birth to three of the most beautiful trumpet concertos.
Paul Merkelo recorded this repertoire accompanied by his colleagues under the baton of Music Director Kent Nagano at Maison symphonique de Montréal. The CD has just been released by Analekta.