Pittsburgh Symphony Orchestra & Manfred Honeck: new CD (February 2015)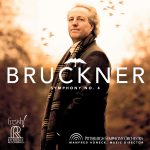 The Pittsburgh Symphony Orchestra under Manfred Honeck presents its new SACD: Anton Bruckner's Symphony No. 4. The recording will be published on 10 February 2015 by Reference Recordings in the version of 1878/80.
Manfred Honeck who has been Music Director in Pittsburgh since the 2008/2009 season writes about the recording: "For me, it was essential to adjust the Bruckner sound to match the character and nature of the 'Romantic' music, seeking a variety of colors ranging from the enormity of the sound blocks to also unbelievably soft and lyric playing."
Please click here for a sound impression.