Pittsburgh Symphony Orchestra and Music Director Manfred Honeck release new recording with Beethoven's Symphony No. 9
The Pi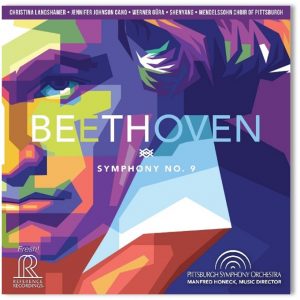 ttsburgh Symphony Orchestra and its Music Director Manfred Honeck celebrate the orchestra's 125th anniversary with the release of a new recording with Beethoven's Symphony No. 9 with Reference Recordings. The recording features soloists Christina Landshamer, Jennifer Johnson Cano, Werner Güra and Shenyang, and the Mendelssohn Choir of Pittsburgh.
This hybrid SACD release was recorded in Heinz Hall for the Performing Arts, the home of the orchestra and is the eleventh in the highly acclaimed Pittsburgh Live! series released on the FRESH! imprint from Reference Recordings.
Digital Downloads and SACDs will be available to the public through all major online music retailers, online and streaming services on 12 February release date; pre-orders can be placed now. More information, for example the booklet and photos, can be found here.
On 27 February, the 125th anniversary to the day of the very first concert of the Orchestra, the Pittsburgh Symphony will present a digital 125th Anniversary Celebration, with a variety of solo and chamber music performances by the Pittsburgh Symphony musicians, highlights of its 125-year history, and more. More information is available at www.pittsburghsymphony.org.
"Beethoven's Ninth Symphony is a monumental work about the revered human values of
freedom, joy and brotherhood, and I believe that Beethoven's extraordinary musical expression of belief in humanity is something that seems needed right now," said Manfred Honeck, Music Director of the Pittsburgh Symphony Orchestra. "I am so proud to bring to life this iconic piece with my beloved Pittsburgh Symphony Orchestra musicians and to share it in this special 125th anniversary season. It is a clear statement of what we can do together."
"This work cannot be done without outstanding voices, so we are delighted to have fantastic partners on this endeavor—our superb Mendelssohn Choir of Pittsburgh, and the exceptional Christina Landshamer, Jennifer Johnson Cano, Werner Güra, and Shenyang, whose agile voices radiate empathy and hope," said Honeck.
In Honeck's music notes which accompany the recording, he details his unique interpretation which draws inspiration from the historical context and musical structure of Beethoven's Symphony No. 9. Throughout, Honeck approaches the work like a great journey and opportunity for discovery, seeking to bring out and reveal the emotional content and meaning behind the notes.
"This recording of Beethoven's Ninth is perfect for marking our 125th anniversary as we not only celebrate our past, but look forward, with great hope and joy, to the future," said Melia Tourangeau, president and CEO of the Pittsburgh Symphony Orchestra.
This release and the entire Pittsburgh Live! series are recorded and mastered by the team at Soundmirror, whose outstanding orchestral, solo, opera and chamber recordings have received more than 130 GRAMMY nominations and awards. For over 40 years, Soundmirror has recorded for every major classical record label, including Reference Recordings.