Kent Nagano: Book publication & CD releases (September 2014)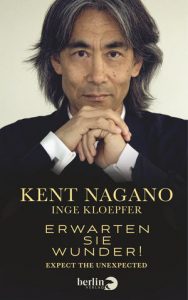 Kent Nagano: "Erwarten Sie Wunder! Expect the unexpected
Kent Nagano's book "Erwarten Sie Wunder! Expect the unexpected" will be published on 6 October by the Berlin Verlag. Based on his own biography, Kent Nagano discusses the importance and future of classical music: Classical music is in danger of disappearing from the everyday reality of the general public and becoming an antiquarianism of a social elite. Its loss would not only impoverish society from a cultural perspective, but would deprive it of inspiration, wit, emotional depth and a sense of community. Concerned about a change of values in the western societies, Kent Nagano makes a passionate plea for classical music. The book is being published in German, a publication in English and other languages is anticipated for the near future. Please click here for further information (in German).

CD releases
There will be three new CDs being released in October under the baton of Kent Nagano. Beethoven's Symphonies Nos. 2 & 4 "The Poetry of Freedom" will be published by Sony Classical as the last part of a recording of all the Symphonies by Beethoven with the Orchestre symphonique de Montréal under Kent Nagano.
A CD with Japanese Children Songs has been recorded by Analekta with Kent Nagano and the OSM. Kent Nagano was intrigued by those songs when he heard his daughter singing them. He comments: "They were at once both, intensely moving emotionally and disturbing. Their haunting, mysterious beauty has continued to entice all generations since their creation making them actual and vividly relevant to our modern world."
The label Edel publishes a complete recording of all piano concertos by Beethoven together with the Triple concerto played by Mari Kodama (with Kolja Blacher, violin, and Johannes Moser, cello). The piano concertos No. 4 & 5 are released for the first time as part of the box. Kent Nagano leads the Deutsches Symphonie-Orchester Berlin.