Kent Nagano at the ECHO Klassik award 2017 (November 2017)
On 29 October conductor Kent Nagano has received the ECHO Klassik award 2017 as conductor of the year for his interpretation of Strauss' Eine Alpensinfonie recorded with the Gothenburg Symphony Orchestra (FARO Classics, 2016).
During the award ceremony in the Elbphilharmonie Hamburg, Kent Nagano also conducted the Philharmonic State Orchestra Hamburg, whose Chief Conductor he is.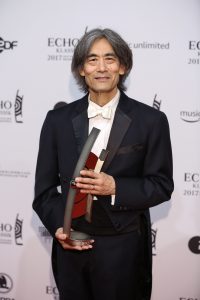 Find here an interview conducted and filmed after the ceremony (in English language) with Kent Nagano and the German magazine Crescendo.