Jan Vogler releases new recording with "Three Continents" and Shostakovich with Sony Classical (June 2020)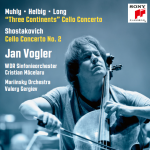 The renowned cellist and Intendant of the Dresden Music Festival Jan Vogler released his new album with SONY Classical on 19 June 2020 – combining the cello concerto "Three Continents" by Nico Muhly (USA), Sven Helbig (D) and Zhou Long (CHN) and Shostakovich's Second Cello Concerto, the recording features an exciting combination of musical tradition and innovative awakening.
The Cello Concerto, "Three Continents" with the WDR Symphony Orchestra under Cristian Măcelaru and Shostakovich's 2nd Cello Concerto with the Mariinsky Orchestra under Valery Gergiev, were both celebrated performances of the Dresden Music Festival 2019. The CD brings the special Dresden Music Festival-Atmosphere to the world.
Symbolic for everything that characterizes our globalized community is the recording of the Cello Concerto "Three Continents" – possibly one of the most spectacular commissioned work by the Dresden Music Festival yet. The composers Nico Muhly, Sven Helbig, and Zhou Long each composed one movement for the concerto. The individual movements, influenced by cultural traditions, melted into a whole, in which one movement without the other would be incomplete.
"First, it was a crazy idea – a cello concerto that combines three cultures which also play a central role in my life: I am German, I live in America, and my wife is Chinese. These very different cultures from different continents enrichen my life, and I wanted to express them musically", says Jan Vogler about his motivation for the composition.
This global, yet biographically influenced experiment is paired with Dmitri Shostakovich's 2nd Cello Concert, a prime example of cello literature that was dedicated to legendary cellist Mstislav Rostropovich. In his work Shostakovich remembers all phases, and their respective societal circumstances. It premiered only 54 years ago, and, until today, the concert resonates with this oppressive ambivalence, the war experience, and the cultural-political constraints felt by the composer. It is a classic, which reveals the fragility of our world and, at the same time, opens up an inspiring musical dialogue with "Three Continents."