DVD Release: Kent Nagano conducts "Boris Godunov" at the Bayerische Staatsoper (January 2014)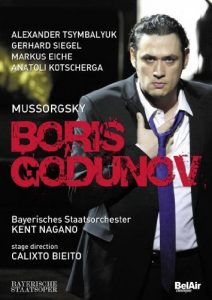 Mussorgsky's opera "Boris Godunov" was Kent Nagano's final new production in his last season as Music Director at the Bayerische Staatsoper in Munich. The label Bel Air will now release a DVD of the performance beginning of February. "If there was a live recording, one would have to get it immediately", wrote Helmut Mauró on 14 February 2013 at the Süddeutsche Zeitung on the occasion of the premiere.
Child murder, scheming monks and a tsar lapsing into madness – Modest Mussorgsky spreads the thematic arc wide in his choral opera, with which he attempted to awaken an awareness of his own time through the indirect route of a historic story.
Kent Nagano and stage director Calixto Bieito put the less often performed and much shorter first version of the opera on stage – this way the spotlight is turned on the inner life of Godunov who is beset with hallucinations and feelings of guilt.
For a trailer of the performance please visit Kent Nagano's website.
BORIS GODUNOV
Modest Mussorgsky (1839-1881)
Opera in four parts and seven scenes
First version (1868/1869)
Libretto: Modest Mussorgsky after Alexander Pushkin and Nikolai Karamsins
Boris Godunov – Alexander Tsymbalyuk
Fyodor – Yulia Sokolik
Xenia – Eri Nakamura
Xenia's nurse – Heike Grötzinger
Schuisky – Gerhard Siegel
Andrey Chelkalov – Markus Eiche
Pimen – Anatoli Kotscherga
Grigory Otropyev – Sergey Skorokhodov
Varlaam – Vladimir Matorin
Missail – Ulrich Reß
Hostess – Okka von der Damerau
Simpleton – Kevin Conners
Nikititch – Goran Jurić
The Boyar – Dean Power
Mityucha – Tareq Nazmi
Captain – Christian Rieger
Bayerisches Staatsorchester, Conductor Kent Nagano
Chor der Bayerischen Staatsoper, Chorus master Sören Eckhoff
Stage direction – Calixto Bieito
Set design – Rebecca Ringst
Costume design – Ingo Krügler
Lighting – Michael Bauer
Dramaturgie/Dramaturgy – Andrea Schönhofer
HD recording: Bayerische Staatsoper (Munich),  February 2013
Produced by François Duplat
Directed by Andy Sommer