David Philip Hefti – World Premiere of "The Snow Queen" on the occasion of the 150th anniversary of the Tonhalle Orchestra Zurich (November 2018)
On the occasion of its 150th anniversary and to celebrate music with all generations, the Tonhalle Society Zurich invited Swiss composer and conductor David Philip Hefti to compose The Snow Queen, a story in music based on the fairytale by Hans Christian Andersen, and to also conduct its world premiere: on 11 November 2018. The semi-staged production with renowned Soprano Mojca Erdmann (Snow Queen) as well as actors Delia Mayer (narrator/Gerda) and Maximilian Simonischek (Kay) will be performed in two family concerts at the Tonhalle Maag in Zurich.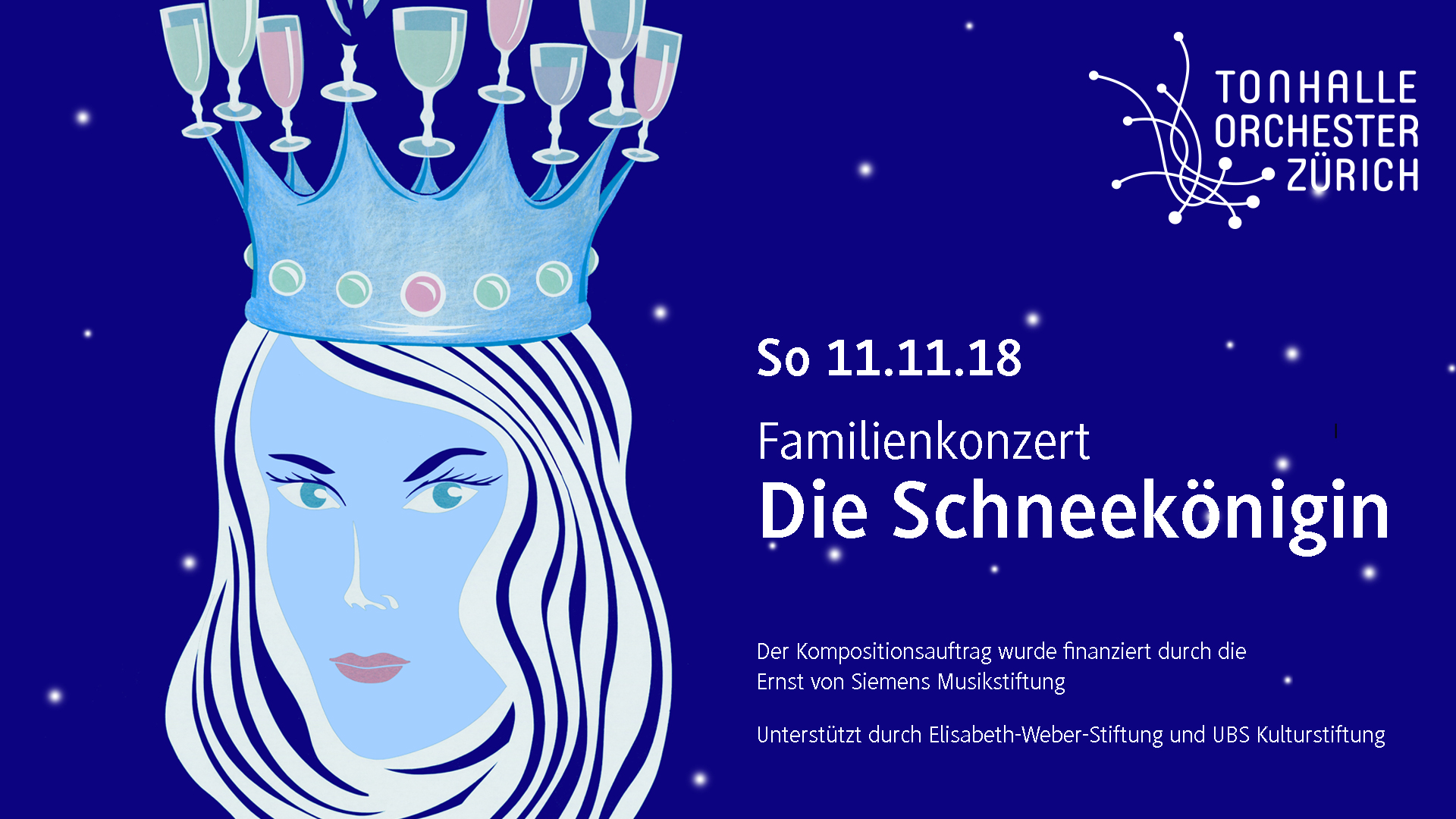 The Snow Queen tells the story of the two neighboring children Kay and Gerda and their confrontation with the Snow Queen. After a splinter hits Kay's eye and his soul hardened, he is abducted by the Snow Queen to her palace. But the unwavering Gerda searches for him and is not stopped by any of the Snow Queen's attempts to distract her from finding him.
David Philip Hefti says: "It is a special honor for me to have received a major commission on the occasion of the 150th anniversary of the Tonhalle Society Zurich and to even conduct its world premiere on 11 November 2018. This concert is a highlight of my many years of collaboration with the wonderful Tonhalle Orchestra Zurich. My "Snow Queen" is characterized by the spatial arrangement of the orchestra and by extraordinary instruments, such as a double-bass clarinet or 24 wine glasses tuned in quarter tones. The work addresses children from about 8 years on, youth and adults. I am especially looking forward to working with my great soloists as well as to the semi-staged realization of the "Snow Queen" at the Tonhalle Maag."
Executive and Artistic Director of the Tonhalle Society Zurich, Ilona Schmiel, comments: "Anniversaries exist to write new stories and history: a well-known subject matter for all generations with a new libretto by Andreas Schäfer, subtly staged by Eva Buchmann and newly set to music by David Philip Hefti, one of the most distinguished Swiss composers of his generation with great affinity to musical theater. I am sure that David Philip Hefti's new work "The Snow Queen" will succeed in showing the relevance of this dramatic story with its highly interesting musical language and conception. David Philip Hefti will also conduct the world premiere himself with a wonderful cast."
The details of the performances are:
11 November, 11:15 & 14:15, Zurich, Tonhalle Maag
Tonhalle Orchestra Zurich, David Philip Hefti
Hefti: The Snow Queen World Premiere
Mojca Erdmann ­– Soprano, Delia Mayer – Speaker,
Max Simonischek – Speaker,
Eva Buchmann – Director, Andreas Schäfer – Libretto
You can find the synopsis of the work on David Philip Hefti's website. The work will be published by Edition Kunzelmann. Edition Kunzelmann makes the score available for download here.