ARC Ensemble publishes new CD (May 2017)
In the beginning of June 2017 the Canadian ARC Ensemble will publish its new CD with the label Chandos.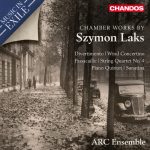 The CD will pressent chamber music by the Polish French composer Szymon Laks.
Find here a flyer about the CD release, created by  publishing house Boosey & Hawkes.