Kent Nagano & OSM: New CD "A quiet Place" at Decca (May 2018)
The Orchestre symphonique de Montréal (OSM) and Kent Nagano are proud to present the world premiere recording of the chamber version of Leonard Bernstein's 'A Quiet Place', adapted by Garth Edwin Sunderland. It will be released on 22 June, ahead of the Bernstein centenary on 25th August 2018.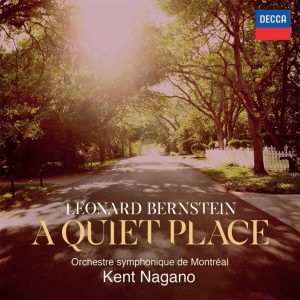 Premiered in 1983, Bernstein's opera 'A Quiet Place' was the composer's last work written for the stage and remains one of his lesser known large-scale compositions. The concert-version presented on the new album features a chamber orchestra and was recorded live at the Maison symphonique de Montréal  in May 2017.
Kent Nagano was introduced to Bernstein by Seiji Ozawa in 1984 and studied with him until his death in 1990. Nagano says, "For Bernstein music was life – the two were synonymous, inseparable. He never stopped exploring and pushing his own compositional language. The goal in this particular adaptation is to allow the spirited brilliance and poetic depth of the work to shine through – including dance rhythms and elements of American folklore. Our hope is that the timeless and universal quality of the piece and the genius of the composition are laid bare in this new recording."