Violinist Francisco Fullana presents debut recording "Through the lens of time" (January 2018)
Young Spanish violinist Francisco Fullana will release his debut recording in March 2018 (Orchid Classics). Entitled Through the Lens of Time, the recording brings together four modern perspectives reimagining the Baroque tradition: a dialogue that prompts both composers and performers to explore musical giants of the past and place them in their own lives. Francisco Fullana has recorded the CD together with the City of Birmingham Symphony Orchestra, conducted by Carlos Izcaray as well as with pianist David Fung.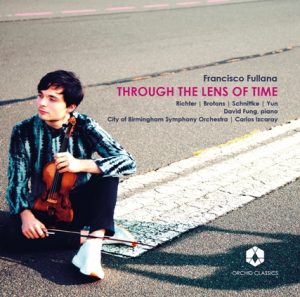 The recording begins with Max Richter's daring reworking of Vivaldi's Four Seasons, which Fullana first performed in 2016 under Venezuelan conductor Carlos Izcaray, who also conducts this debut recording. Fullana comments: "Richter's The Four Seasons Recomposed awoke a renewed commitment to my musical approach focused on instinct and emotion. It brought me back to my own beginnings, as The Four Seasons was one of the few cassettes that my family would play in the car when I was a young boy. During the performance, Carlos Izcaray and I found that we both shared the same energetic approach to music making. It became clear that we both loved performing this piece too much not to do so again."
The recording continues with three other works that provide unique takes on the Baroque tradition. The Korean-German Isang Yun's Königliches Thema pays homage to Bach's Musical Offering, conflating Baroque and modern styles in one densely rich composition that magically surveys Western musical tradition through the lens of Eastern philosophies. Meanwhile, Schnittke's Suite in the Old Style presents a combination of different aspects of the Western tradition from Baroque onward, and is heavily influenced by the musical aesthetic of the composers' own time. As such, the writing represents a sort of time capsule, portraying what "Baroque style" meant to performers
in the 1970s, with exaggerated gestures, verticality, and highlighting the sense of drama to the point of becoming ceremonial. Finally, Salvador Brotons' Variations on a Baroque Theme hearken to the roots of Fullana's career, and to his first performance before the public as a nine-year-old prodigy soloing in Mozart's Turkish A Major Concerto, under Brotons' baton. The one-time mentor composed his set of variations specifically for this project, completing a circle by basing the work on a popular aria from the zarzuela, Acis Y Galatea, by a third Spaniard, the 18th Century Mallorcan composer Antoni Lliteres.
Find here the trailer of the recording of The Four Seasons Recomposed by Max Richter with the CBSO and Carlos Izcaray in Birmingham.