Release Tchaikovsky CD of Pittsburgh Symphony Orchestra (May 2016)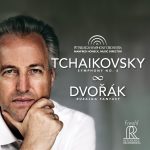 The Pittsburgh Symphony Orchestra releases its new CD with Tchaikovsky's 6th symphony and Dvořák's Rusalka fantasy (Arr. Honeck / Ille) on 13 May 2016 by Reference Recordings. This release is the fifth in a series of multi-channel hybrid SACD recordings on the FRESH! label by Reference Recordings with the Pittsburgh Symphony Orchestra under Manfred Honeck.
Tchaikovsky says about the symphony: "I absolutely consider it to be the best, and in particular, the most sincere of all my creations."
Manfred Honeck writes in his booklet notes: "It is undoubtedly clear that Tchaikovsky truly put all of his soul into this unique masterpiece. I dare to say that in a way, Tchaikovsky experienced his own death through the music. One can be sure that only somebody who is deeply empathetic about both life and death can be capable of creating such an atmosphere and I am deeply grateful for the great musicians of the Pittsburgh Symphony Orchestra who went with me on this journey, requiring the utmost technical perfection to reach such a level of expression."
The album also includes the world premiere of the Rusalka Fantasy, an orchestral suite drawn from Dvořák's opera by Mr. Honeck and arranger Tomáš Ille.