Pittsburgh Symphony Orchestra's Strauss CD named Gramophone Magazine Editor's Choice (March 2014)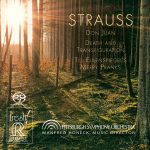 Gramophone Magazine picked the Pittsburgh Symphony Orchestra's recent recording of Strauss's tone poems as one of its "Editor's Choice" recordings for March 2014. The CD was released in November 2013 on Reference Recordings Fresh! label.
Reviewer Ivan March said of the recording, "This is one of the outstanding Strauss CDs of the year; the quality of playing and recording makes it very recommendable indeed." He also credited Music Director Manfred Honeck for his interpretations, "which vividly bring out the music's emotional and pictorial detail."
In July 2014, the Pittsburgh Symphony Orchestra will release its next CD featuring works by Dvořák and Janáček.
On 10 May the Pittsburgh Symphony Orchestra and Music Director Manfred Honeck will appear at the Carnegie Hall New York. The concert is part of the Spring For Music festival and will feature works by Bruckner, Poulenc and MacMillan as well as Manfred Honeck's version of Mozart's Requiem – "Mozart and Death in Words and Music" – incorporating selections from the Requiem, and other chants, music for mourning and readings.
10 May, New York, Carnegie Hall
Bruckner: Ave Maria
Poulenc: Final Scene from "Dialogues des Carmélites"
MacMillan: Woman of the Apocalypse
Mozart: Requiem (in a version by Manfred Honeck "Mozart and Death in Words and Music")
Sunhae Im – Soprano, Elizabeth DeShong – Mezzo-Soprano, Benjamin Bruns – Tenor, Liang Li – Bass
F. Murray Abraham – Speaker
The Mendelssohn Choir of Pittsburgh (Betsy Burleigh, Music Director)