New recording from Manfred Honeck and the Pittsburgh Symphony Orchestra (October 2021)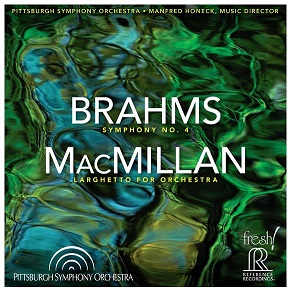 With its record label Reference Recordings, the Pittsburgh Symphony Orchestra and Manfred Honeck announce a new recording: Brahms Symphony No. 4 and MacMillan Larghetto for Orchestra. This release coincides with the Orchestra's 2021-2022 season and its joyful return to live concerts with full orchestra. These works were recorded live in the Heinz Hall, now celebrating its 50th anniversary season as the home of the Pittsburgh Symphony. The recording is available worldwide on 22 October.

"Johannes Brahms' Fourth Symphony is a powerful work with deep emotional lines and full sound, a complex and challenging work with its hundreds of nuances. It is very satisfying to hear together the Brahms Symphony and James MacMillan's Larghetto for Orchestra as they are both intensely personal works that also share enormous depth in color and beauty," said Manfred Honeck, Music Director of the Pittsburgh Symphony Orchestra.
The recording is accompanied by Manfred Honeck's extensive music notes, which provide insight into his unique interpretation as well as the history and musical structure of Brahms' final and beloved symphony.

This release is the twelfth in the highly acclaimed Pittsburgh Live! series of multi­channel hybrid SACD releases on the FRESH! imprint from Reference Recordings. This series has received GRAMMY® Nominations in 2015, 2016, 2018, 2019 and 2020. Its recording of Shostakovich's Symphony No.5 /Barber Adagio for Strings won the 2018 GRAMMY® Awards for Best Orchestral Performance and Best Engineered Classical Album. The Pittsburgh Live! series are recorded and mastered by Soundmirror, whose outstanding orchestral, solo, opera and chamber recordings have received more than 130 GRAMMY® nominations and awards. 
Please let us know if you need further information or if you are interested in a press copy. The booklet and more information, can be found here.
JAMES MACMILLAN  is the preeminent Scottish composer of his generation. His Larghetto for Orchestra was commissioned by the Pittsburgh Symphony Orchestra in honor of the tenth anniversary of Manfred Honeck as Music Director. It had its world premiere performance in October 2017. This album contains the world premiere recording. The composer generously includes his own album notes about this solemn and repentant, but ultimately hopeful work. 
MANFRED HONECK has firmly established himself as one of the world's leading conductors, whose unmistakable, distinctive and revelatory interpretations receive great international acclaim. He is currently in his 14th season as Music Director of the Pittsburgh Symphony Orchestra. Manfred Honeck's successful work in Pittsburgh is extensively documented by recordings on the Reference Recordings label. All SACDs, these recordings feature works by Strauss, Beethoven, Bruckner, Tchaikovsky and others, and have received a multitude of outstanding reviews and awards, including a number of GRAMMY® nominations. The recording of Shostakovich's Symphony No. 5 and Barber's Adagio won the GRAMMY® for "Best Orchestral Performance" in 2018. In February of 2021, Manfred Honeck and the Pittsburgh Symphony released a new recording of Beethoven Symphony No. 9 in celebration of the orchestra's 125th anniversary season. This album is Manfred Honeck's first recording release of a work by Johannes Brahms and was recorded in April 2018. 
The PITTSBURGH SYMPHONY ORCHESTRA, known for its artistic excellence for more than 125 years, is credited with a rich history of the world's finest conductors and musicians, and is deeply committed to Pittsburgh and its region. Since 2008, the Pittsburgh Symphony has been led by its worldwide acclaimed Music Director Manfred Honeck. Past music directors have included many of the greats, including Fritz Reiner, William Steinberg, André Previn, Lorin Maazel and Mariss Jansons. The Pittsburgh Symphony Orchestra has always been at the forefront of championing new works, including recent commissions by Mason Bates, Jonathan Leshnoff, James MacMillan and Julia Wolfe. During its 2021-2022 season, Manfred Honeck will lead five world premieres and five commissions. The Pittsburgh Symphony has a long and illustrious history in the areas of recordings and live radio broadcasts dating back to the 1930s. It has toured frequently both domestically and overseas since 1900—including more than 40 international tours.

For more than 40 years, SOUNDMIRRORROR has been the first choice recording company for orchestras, choral groups, opera companies, solo artists, and record labels. We combine world-class customer service, recording equipment, and industry knowledge to produce recordings that are consistently acknowledged by the press, industry peers, and have earned 130 GRAMMY nominations and awards. 
For over 40 years, REFERENCE RECORDINGS has been one of the most innovative and respected independent labels in the music business. Reference Recordings releases have been highly praised for their dedication to high-quality sound in the service of great music. Founder Tam Henderson (multi-year GRAMMY® nominee for Producer of the Year), was joined in 1978 by Keith O. Johnson (2011 GRAMMY® winner, and 10 additional nominations). Some 150 projects later, RR is still recording what many consider to be the finest-sounding classical, jazz and blues discs in the world.