Midori – new Onyx CD (September 2015)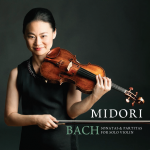 Midori's long-awaited new CD will be available on the Onyx Classics label on 30 October 2015, for which she recorded Bach's sonatas and partitas for violin solo BWV 1001-1006 in the WDR studios Cologne.
The music is already available on iTunes and Spotify.
It was on the occasion of her 30th stage anniversary that she decided to record these works after having been engaging herself with this outstanding music for a long time in her life.
Midori about her heart project: "Bach presents us with scores that call for the performer to extend his artistic capacities and technical refinement to the utmost. While it takes more than a lifetime to master and 'understand' these works, after 30 years on stage the time felt right for me to fully embrace these most daunting and invaluable compositions." She performed the Bach solo program in Munich, Vienna, at the Lucerne Festival and in Japan; more concerts are to follow in 2016.
Among many other engagements in the 2015-16 season she will perform twice in Berlin (Philharmonie and Konzerthaus), in London's Wigmore Hall and in Vienna, and in January 2016, she will go on tour to Germany and the Netherlands with the Filarmonica Teatro La Fenice from Venice and Omer Meir Wellber.