Jan Vogler: new CD with double concertos for violin & violoncello by Sony (April 2018)
On 11 May 2018, German cellist Jan Vogler will release his new CD with Sony Classical: Together with violinist Mira Wang and the Royal Scottish National Orchestra conducted by Peter Oundjian they have recorded double concertos by Johannes Brahms, Wolfgang Rihm and John Harbison.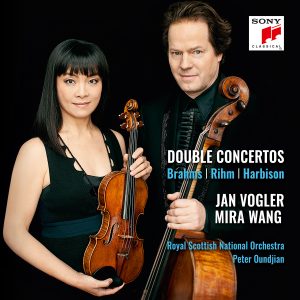 Through Jan Vogler's initiative two renowned contemporary composers – American John Harbison and German Wolfgang Rihm – were each to compose a work for violin, violoncello and orchestra, which will now be released as world premiere recording.
Both pieces – Wolfgang Rihm's "Duo Concerto" as well as John Harbison's "Double Concerto" – were premiered by Jan Vogler and his wife, violinist Mira Wang in the USA.
Jan Vogler and Mira Wang about this new recording:
"Brahms' singular master work stood alone for over a century, without notable challenge by new compositions for the same unique instrumentation. We are happy and proud to have helped to bring two beautiful and strong double concertos to life. Wolfgang Rihm's virtuous double concerto in one movement and John Harbison's poetic and symphonic work are framing Brahms' double concerto on this CD. For us it feels like a completed circle, from the first idea through the creations and premieres, to the presentation on this recording."