CD release: Pittsburgh Symphony Orchestra & Manfred Honeck – Dvořák & Janáček (July 2014)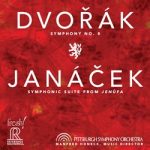 Manfred Honeck and the Pittsburgh Symphony Orchestra have recorded a new CD that will be published by Reference Recordings at the beginning of July, featuring Dvořák's Symphony No. 8 and Janáček's Symphonic Suite from Jenůfa, arranged by Czech composer Tomáš Ille and conceptualised by Manfred Honeck. This release is the second in a series of multi-channel hybrid SACD recordings on the FRESH! label by Reference Recordings with the Pittsburgh Symphony Orchestra under Manfred Honeck.
At the beginning of the 2014-15 season, Manfred Honeck will conduct the NDR-Sinfonieorchester, the Vienna and Bamberg Symphony Orchestras, the Czech Philharmonic Orchestra and the Chicago Symphony Orchestra. In Pittsburgh, he opens the new season on 13 September with a gala concert featuring Anne-Sophie Mutter.
Manfred Honeck's concert dates at the beginning of the 14-15 season at a glance:
13 September, Pittsburgh, Heinz Hall – Gala
Pittsburgh Symphony Orchestra
Bruch: Violin concerto
Anne-Sophie Mutter, Violin
19-21 September, Pittsburgh, Heinz Hall
Pittsburgh Symphony Orchestra
Bates: Rusty Air in Carolina
Rachmaninoff:  Rhapsody on a Theme of Paganini op. 43
Berlioz: Symphonie fantastique op. 14a
Valentina Lisitsa, Piano
8-10 October, Prag, Rudolfinum
Czech Philharmonic Orchestra
Janacek: Suite from Jenůfa
Strauss: Death and Transfiguration
Mahler: Lieder from "Des Knaben Wunderhorn"
Matthias Goerne, Bariton
16/19 October, Hamburg, Laeiszhalle
NDR-Sinfonieorchester
MacMillan: Woman of the Apocalypse
Mozart: Piano concerto C Major KV 503
Strauss: Till Eulenspiegel's Merry Pranks
Martin Helmchen, Piano
17 October, Luebeck, Musik- und Kongresshalle
s. 16 October
30/31 October, Vienna, Musikverein
Wiener Symphoniker
Prokofieff: Piano concerto No. 3
Mahler: Symphony No. 1 "Titan"
Yuja Wang, Piano
16 November, Bamberg, Konzerthalle
Bamberger Symphoniker
Widmann: "Con brio" – Concert Overture for orchestra
Weber: Clarinet concerto No. 1
Brahms: Symphony No. 4
Jörg Widmann, Clarinet
17 November, Erlangen, Stadthalle
s. 16 November
28/30 November, Pittsburgh, Heinz Hall
Pittsburgh Symphony Orchestra
Thanksgiving
Alexskey Igudesman – Violin, Hyung-Ki Joo – Piano
5-7 December, Pittsburgh, Heinz Hall
Pittsburgh Symphony Orchestra
Beethoven: Symphony No. 5
Beethoven: Symphony No. 7
11/12/13/16 December, Chicago, Symphony Hall
Chicago Symphony Orchestra
Haydn: Symphony No. 93
Strauss: Don Juan
Beethoven: Symphony No. 7