Jonathan Biss has been Co-Artistic Director of the Marlboro Music Festival since 2018. Together with Mitsuko Uchida, Artistic Director since 2013, he will spend this summer rehearsing and performing a wide variety of chamber music works with musicians of all ages. For Jonathan Biss, the festival is all about the idea that "time is the most precious commodity and the most important ingredient in a musician's life," which aligns with the festival's concept of performing only a small portion of the rehearsed works. Over five weekends, individual ensembles of musicians present the results of their intensive rehearsal work, but neither the concert repertoire nor the lineup is finalized more than a week in advance due to the dynamic planning process.
Find out more about the festival here.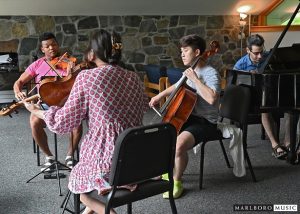 Jonathan Biss rehearses Mozart's Piano Quartet in G Minor, K. 478 with Randall Goosby (violin), Haesue Lee (viola) and Chase Park (cello). Photo by Pete Checchia.